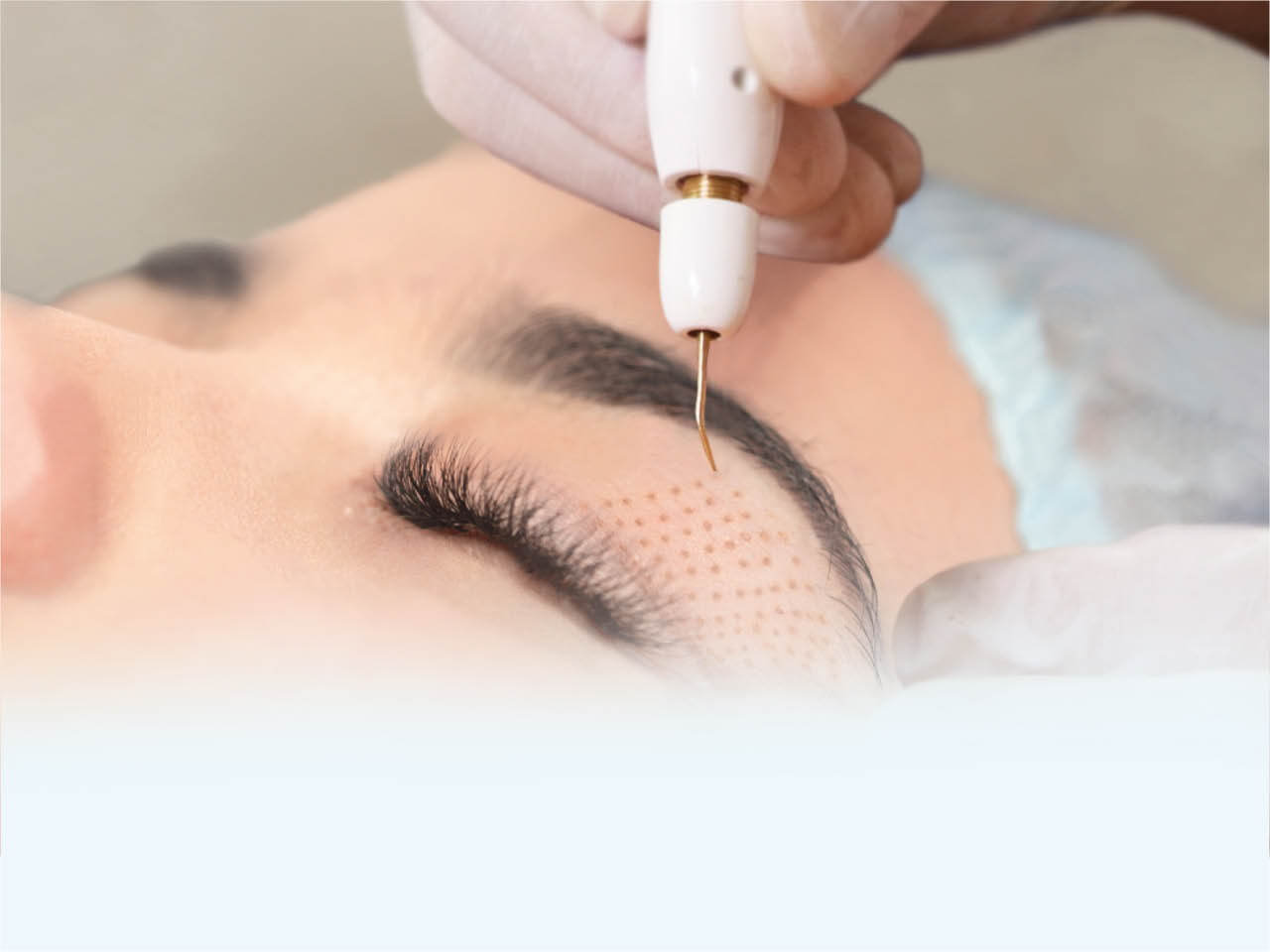 It is a Non-invasive or Non-surgical procedure in which no scalpels or any surgical instrument are used. Fibroblast is basically an electric arc that is transmitted through a small probe.
The probe itself does not enter the skin or touch the skin. The treated fabrics "sublimate" the skin, the principle is to ionize the gases in the air to create a small electric arc, similar to a small ray, with which the epidermal areas, which are affected by aesthetic problems, can be treated without propagating unwanted heat to surrounding areas.
This innovative technology cannot cause the so-called "over-lift" as it only affects excess or loose skin that returns to its "natural state". It's a highly versatile treatment that's stunningly effect in wrinkle smoothing, eyelid tightening and eyelid hood reduction.
It treats, repairs, lifts and regenerates almost any area of the skin. Spectacularly improves appearance and skin tone, laxity and texture, significantly tightening loose skin, dramatically reduces and plumps out lines and wrinkles.
Full Tummy (Two Hands Width)
Upper Lip (Smoker's Lines)
Plasma soft lifting
Is a great alternative when your client doesn't have that much wrinkles on the skin and you just want to make the skin look younger and slightly stop the process of aging.
Before treateament
Pre-treatment
There is no special pre-treatment needed.
It is advisable that you do not apply any cosmetic products on the treated area (especially those containing alcohol).
Profesional skincare products with ingredients such as retinol, Alpha-Hydroxy Acids (AHAs), Retinoin or any type of vitamin A derivatives should be avoided.
During the consultation you should mention all recent surgical or aesthetic procedures.
Aftercare the first 24 hours & futher
Be gentle with your lashes. No touching, rubbing, sweating, swimming in the ocean/pool,washing your face with hot water for the first 24 hours.
Avoid running water directly on your lashes.
Avoid oily products (including some sunscreen products) on or near your lashes.
If you insist on mascara, only use water based mascara and apply it middle to tip avoiding root area.
Use water based eye makeup remover only!
Do not perm or curl your lashes.
Avoid sleeping on your new eyelashes.
Do not pull on your lashes. This may cause your natural lashes to come out prematurely.
Maintain extensions with regular touch up appointments.
Process
First, the topical anaesthetic (cream)is applied, minimizing the risk of pain and numbing the treated area.
The anaesthetic takes effect 25 minutes after the application.
The procedure itself does not last long. 20-30 minutes depending on the area .
The duration of the treatment (with anaesthetic application) 60-90 minutes.
Contraindications
When we do not perform treatment:
If client has darker skin ( Fitzpatrick scale skin type 6).
If client skin is prone to scarring/keloid scarring (usually darker skin).
If client skin has:
Severe acne.
Moles and birthmarks.
Dermatitis or eczema.
Severe skin conditions.
Open Wounds.
Lupus.
Psoriasis or Vitiligo.
Any visible skin irritation.
If client has severe Diabetes.
If client has allergies or sensitivities to any of the products used during the treatment.
If client has history of being treated with blood- thinning medications.
If client have any immune – deficient or have any other auto – immune disorder.
If client is pregnant or breast- feeding.
The Birth Control Pill and other Medications.
UV Exposure.
Autoimmune Disease.
Severe circulatory disease including ischemic tissue, thrombosis, severe uncontrolled blood pressure.
Metal plates or pins.
Severe Cardiovascular conditions.
Current or recent hemorrhage.
IMPORTANT!!
If client has a PACE – MAKER ( due to frequency of pace-maker).
If client is a CANCER patient (chemotherapy or irradiation).
If client has been taking Acne medications (Roaccutane ) in the last year.
If client has taken Accutane in the past year.
Post - inflammatory Hyperpigmentation
It can be caused by infestation, allergic reactions, mechanical injuries( picking acne lesion) or reactions to medications, photo toxic eruptions, burns, bruising and inflammatory skin diseases from eczema/ dermatitis family.
Darker skin is more prone to post- inflammatory hyperpigmentation.
This type of pigmentation can darken with exposure to UV light and with the use of various chemicals and medications, thus it is highly important to point out to the client that after the treatment direct contact with sun rays (UV radiation)and use of chemical products on the treated area should be avoided.
SPF ( Sun Protection Factor) is of a key importance and an essential part of after care.
After Care
The after care is the most important part of the Fibroblast-Skin Tightening treatment, as we by no means wish for the inflammation or hyperpigmentation of the treated area to occur.
There are three phases of skin healing:
Phase 1
Inflammatory response / wound healing (5-7 days).
Phase 2
Regenerative phase or Fibroblastic phase (5 or 7-28 days).
Phase 3
New collagen production
The aftercare collection consists of three healing-based creams that are used for after Fibroblast SkinTightening treatments.
After any cosmetic treatment it is important that we treat our skin well, not only so we get great results, but so we are protected from any complications.
Our aftercare creams are labelled 1, 2 and 3 for simple use.
Aftercare NO.1:
Use for first 24hrs after Fibroblast Skin-Tightening treatment
Gently spray area 3-4 times a day
Spray on cotton pad and tap over treated area
DO NOT scrub treated area
Solution can be used during the entire healing process (Suitable for diabetic patients because it does not contain sucrose).
Aftercare NO.2:
Use 24hrs after treatment is done
Apply 2-3 times a day in a thin layer
Use for 5-6 days
Recommended to use during the entire healing process.
Aftercare NO.3:
MUST be used when exposed to sun or UV
Cream is applied on top of aftercare NO.2
Apply the cream on the skin in a very thin layer
Cream should be applied once a day or twice not more
Use for 5-6 days
Recommend you use it during the entire healing process.
What's normal or possible side effects?
Inflammation
Scarring
Minor change in skin pigmentation (very rare)
Crusts which occur after treatment (lasts for 5-7 days)
Minor swelling after around the eye treatments (lasts around 3-5 days depending on sensitivity).